Dealing with thinning hair or complete hair loss can be incredibly stressful for those who deal with it. Fortunately, there are a number of different ways that you can combat hair loss. Our team provides excellent hair loss services to help those in Roseville, CA, deal with their loss of hair. One of the most popular methods we provide is hair loss medication. There are different options available to accommodate the unique needs of each individual.
Minoxidil
Minoxidil (generic for Rogaine®) was discovered in the 1980s as an effective medication for hair restoration. It is available over the counter in a two and a-five-percent solution and is known to stimulate hair growth and decrease thinning of hair. It alters some of the miniaturizations that occur as a person is going through the hair loss process.
Minoxidil can be used in both men and women and is thought to be more effective in women in some cases. In one study, Rogaine® was shown to regrow hair in eighty-five percent of men when used twice a day (after four months). With regular use, the fine, miniaturized hair strand looks thicker and stronger.*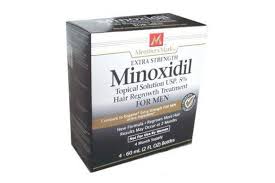 Low-Dose Oral Minoxidil
For many patients, topical minoxidil (Rogaine), leaves the scalp itchy and the surrounding hair oily making it difficult to be consistent with the treatment. An alternative treatment offered at Sacramento Hair Doctor is low-dose oral minoxidil. This has all the benefits of topical Rogaine, without the messiness of a topical formula on the scalp. It is well tolerated by most patients and results are seen as soon as three months after starting to take it. The benefits of oral minoxidil are that it is relatively safe and effective and can help to thicken existing hair. It works in conjunction with finasteride (Propecia) so both medications can be taken together.
If you are experiencing thinning hair, it is important that you consult with an expert like Dr. Prasad to see if a therapy involving low-dose oral minoxidil is right for you.
5
–
Written onMay 10, 2020
I was missing hair in the front, above my forehead. I didn't know a lot about hair transplants before I made an appointment but I scored! My hair looks a lot better now. I would certainly recommend this office.*
Finasteride
Finasteride (generic for Propecia) is an oral medication that slows hair loss and in many cases stimulates new hair growth if taken regularly. It blocks the conversion of testosterone to DHT (dihydrotestosterone) and therefore is known as a DHT-blocker. DHT is the hormone in the follicles that is responsible for initiating and continuing androgenetic hair loss. By taking finasteride regularly, the levels of DHT are decreased and the progression of hair loss is halted.
You will know in three months if you are benefiting from taking Propecia. The effects should be visible by twelve months and if not, then further treatment may not be helpful.* If you discontinue Propecia, you will likely lose any gains you have made.
This medication is not used for pre-menopausal women.
Spironolactone
This is an oral medication that may be effective in women experiencing hair loss, especially women with a high testosterone level or with a condition called Polycystic Ovarian Syndrome. It seems to work by "blunting" the effect of testosterone and decreasing the associated hair loss.
Camouflage Techniques
There are a number of fiber products that are sprinkled on the scalp to camouflage thinning hair. The most common product is "Toppik™." This is very helpful in hiding the amount of hair loss but is not the best long-term solution because most patients find it to be somewhat messy. There are also a number of sprays and dyes that can be applied to the scalp, to create a camouflage for hair loss.
For some men with strong genetic influences and aggressive hair loss, these camouflage products may be the only long-term solution.
*Individual results may vary. Consult with Dr. Prasad to see if you are a candidate.
How Much Do Hair Loss Medications Cost?
The Sacramento Hair Doctor in Roseville will perform an assessment of your hair and make an expert recommendation on the type of hair loss medication that is best for your needs. The cost of the medication depends on the individual needs of each patient and the type used to achieve your goals.
Contact Our Office
Hair loss medication can provide the restorative effects you need to reclaim your healthy hair. If you're interested in learning more about your hair loss medication options in Roseville, Ca, contact us online, or call 855-722-4247, for your personal consultation.
Related Blog Posts
Hair Transplant Surgery: What to Expect
Like most cosmetic procedures, hair transplants are a very personal, private experience. The procedure is more advanced than ever, and there's more… Read More
Related Content